The Difference Is In The Tour
Welcome to Vero Beach Florida's most
popular airboat adventure!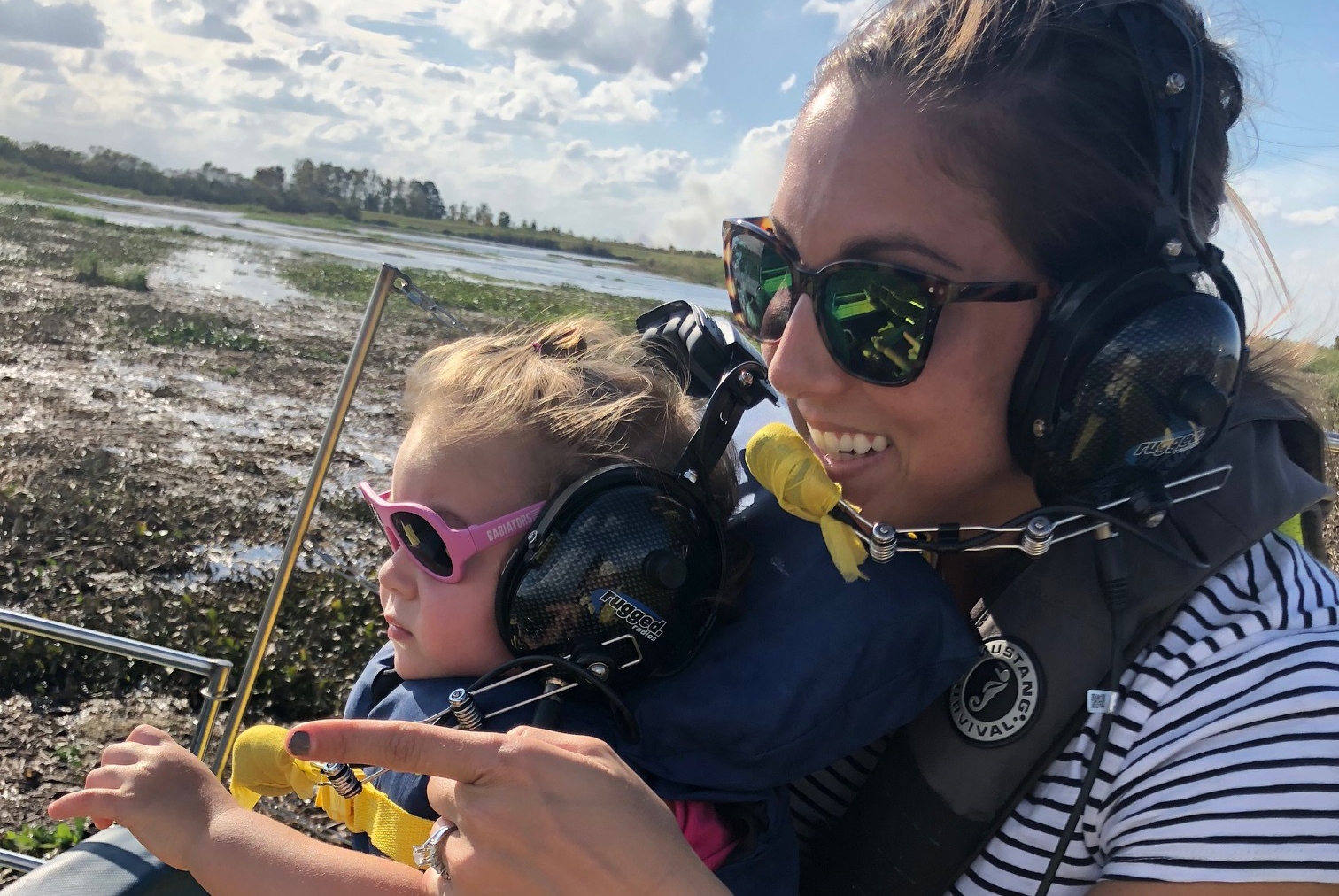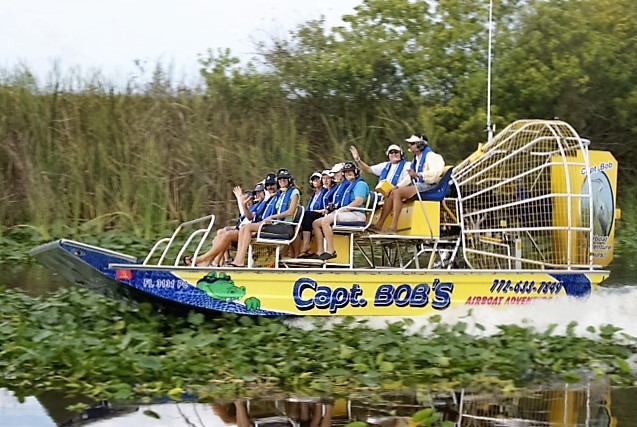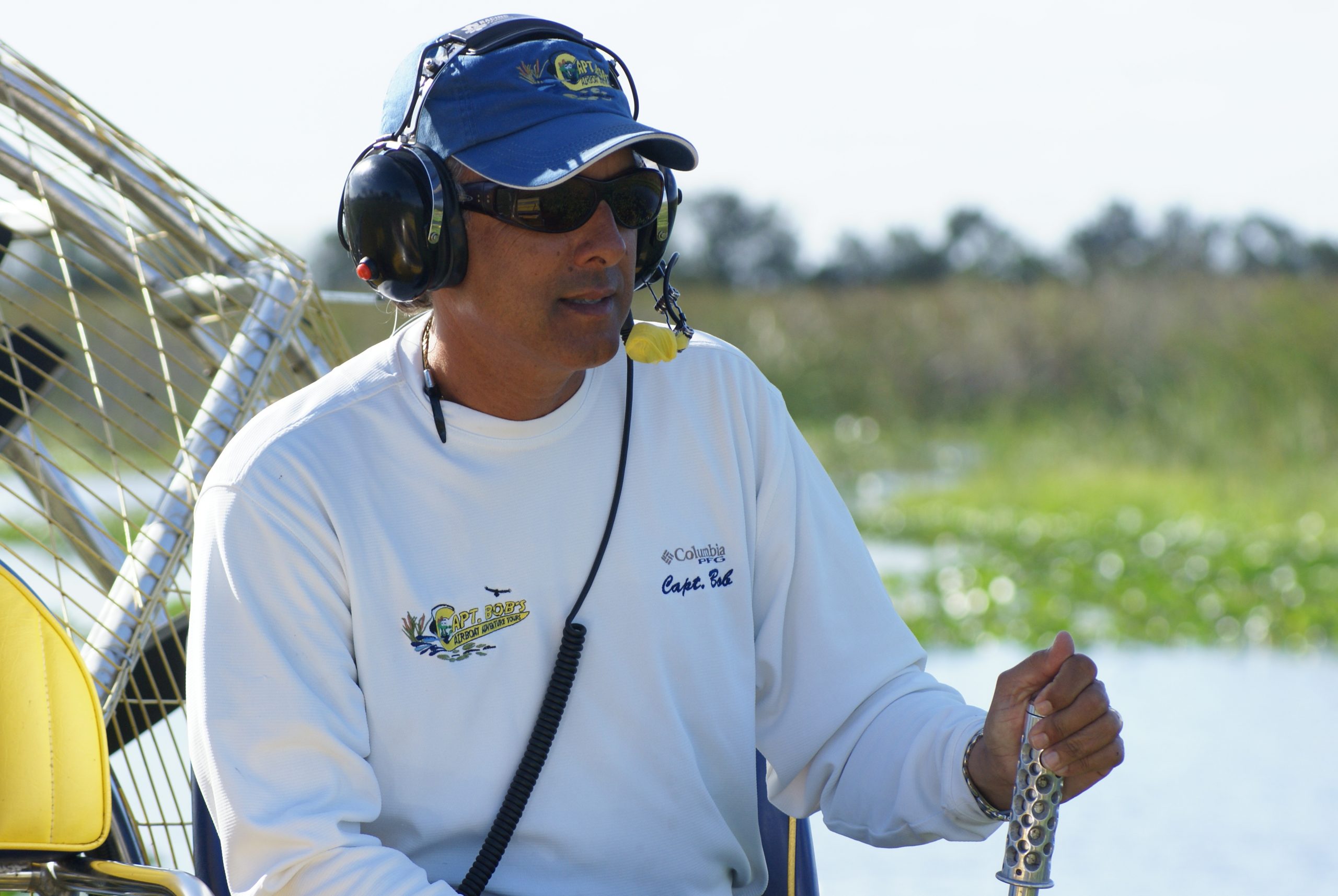 Capt. Bob set the standard in 2004 with the first and most talked about, narrated airboat tour on the Treasure Coast. Located in Vero Beach just west of I-95 on the beautiful Blue Cypress Conservation Marshland.
Experience Florida's natural marshlands, and feel the thrill of flying over the water and drifting through turns as you glide over miles of natural Florida wetlands. During your one hour airboat tour you will observe exotic birds, plants, turtles and Florida alligators in their own natural environment in pristine areas that ordinary boats simply cannot reach. Getting so close you'll be amazed.
Capt. Bob is a long time Indian River County resident and guide. He transformed an average airboat ride into the best fully-narrated airboat tour through Indian River County's marshland. While navigating the waters, Capt. Bob shares information about the area and its habitat through aviation talk-around headsets provided to all guests. On your airboat tour, Capt. Bob will share points of interest about the birds, plants, fish and gators that you see. He will also cover the history of the marshlands and its previous transformation. Capt. Bob's airboat tour has been enjoyed by thousands young and old. Capt. Bob set the standards that others try to follow. Enjoy a fun, exciting, educational and entertaining look at the marshlands in its natural inhabitants. A must see for tourists and Florida residents of all ages, Capt. Bob is known by the locals as the Marsh Entertainer! Capt. Bob's Airboat Adventure Tour has proudly been the premier airboat adventure tour since 2004.

Fun family excursionI schedules this tour as a spring break excursion with my family. It did not disappoint. John our boat operator for the day was very knowledgeable and entertaining. He was very attentive to the younger children on the boat and made the experience for all memorable. We were able to see up close a great deal of wildlife. I would highly recommend this experience.

Darlene N
December 4, 2020.
Great adventure!Super fun day on Captain Bob's Airboat with Captain John. Captain John is an excellent guide that has a vast knowledge of the area, wildlife and history of the land. Captain John is a friendly guide that will make sure you enjoy your tour. Great for all ages! Highly recommended!

Jennifer O
November 14, 2020.
The best tour in Vero!This was a fantastic tour! We had Capt. Bob and he made it both thrilling and educational. This was a birthday surprise for my fiancé on our trip to Vero. Fun for all ages and families!

ErikaI brought my 10 yr old daughter and one of her friends and we had so much fun. It was end of July so we knew it was going to be dreadfully hot but it was actually a pleasant day. Captain John was witty, fun, extremely knowledgeable about the area, and it was super comforting he was a firefighter/ EMT. I would recommend this 1 hour excursion to anyone; whether you're a local or from out of town. A cool thing to do for sure no matter how old you are. Oh yeah.... we saw a bunch of alligators 🐊

Therese S
August 2, 2020.
Great way to see the sights!Capt Bob exceeded our expectations for a fun morning on the water! After a little mix-up regarding our reservation, he made sure that we were accommodated and was very friendly throughout the problem-solving process. Great ride, saw many animals and learned much about the history and ecosystem of the area. We also received a call afterward, thanking us for coming. Very professional and friendly folks! Definitely recommend!

Fun morningI would highly recommend doing this tour. It's something I've been wanting to do and I'm glad we took the time from our week long stay to do the tour. It was a nice break from the pool/beach. Our guide was very informative and full of interesting facts about the wildlife and vegetation. We saw many more alligators than I expected as well.

Global792046
July 23, 2020.
SOLID 5 Stars!!Very good. Highlight of kid's and grandchildren's (toddlers) trip in from CO. Before we even arrived, Capt Bob likely went thru a can of Lysol disenfecting the entire boat complete with protective tape on the headsets. Lisa, his wife was also outstanding as we booked our trip with her.. His experience as an operator was very evident. Very safe.
cemandl
February 12, 2020.
What a fantastic experienceIf you are in the Vero Beach area, you must do this airboat trip. Bob's son-in-law does a great job giving you the history of the area (which is amazing) and the viewing of alligators, sea birds, and plant life is plentiful. Highly recommended. Unfortunately my photos won't come down from the cloud so I can't attach any!
Theshortchef
January 26, 2020.
Could not have been better!John was our guide and did a fabulous job. He was informative and entertaining, full of enthusiasm. We saw so much wildlife and the entire area was absolutely gorgeous. Another plus was that John took tons of pictures that he shared with everyone after the tour. The airboat ride itself was great fun and we will look forward to returning on our next visit to the area. Highly recommend!

Coastal714436
January 20, 2020.
Fun and InterestingThis was a great trip, not only was the ride fun, but the guide was extremely knowledgeable about the birds and animals. We saw LOTS of alligators and learned much of the history of that area of Florida. We would definitely take this tour again and again